Wire Harness Assemblies
Service Detail from Vexos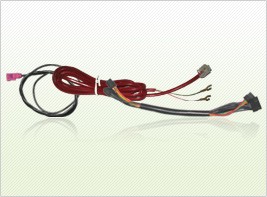 Wire and Cable Assembly from STACI
Overview
With a focus on quality, STACI Corporation offers highly diversified manufacturing of standard and custom interconnect components and electromechanical assemblies. STACI's products are widely used in a variety of industries including consumer electronics, telecommunications, computing, audio and video, medical, automotive and industrial automation.
STACI strives to provide its customers with value added products and services. To hold true to that mission, STACI employs highly skilled and experienced engineers, sales people, purchasers and assemblers. STACI's expert staff provides OEM engineers with affordable, customized solutions that include everything from flat cables to complex wire harnesses.
Every customer has different challenges to overcome. STACI is committed to providing exceptional service to meet each customer's unique requirements and to provide them with the most cost effective solutions.
Wire and Cable Assembly Services
STACI's services include, but are not limited to:
Standard cable assemblies
Wire harness and terminal block assemblies
Filter lead terminations
Filter assembly
Power cords
Custom cable assemblies
Fan lead terminations
IEC receptacle assembly
Complete fan trays
Display assemblies
STACI's capabilities
These solutions are just a sample of what STACI can do. Combining advanced technological processes with years of manufacturing excellence, STACI's affiliates are leading suppliers of wire harnesses to motor vehicle and motorized consumer products industries and their aftermarkets.
With strategically located facilities in China and Taiwan, STACI Corporation is involved with its affiliates in synchronous manufacturing, continuous quality control and computerized inventory management processes. The factories provide fully integrated manufacturing capabilities with a wide range of technical services including product design, applied engineering, custom manufacturing and integration of wire and wire-related components.
Full service options
Full service at STACI begins with materials that offer the best quality, performance and value. STACI's wire comes directly from the most competitive sources, equipped with modern production facilities that manufacture the highest quality copper strand available. Through continuous casting of high purity copper rod, coupled with multi-wire drawing technology, wires and cables are produced to meet the customer's precise specifications.
STACI's wire and cable production is based on the most stringent quality control standards in the industry. Products are tested and inspected at each stage of the manufacturing process, ensuring consistency and reliability. Complete on-site laboratory facilities guarantee compliance with CSA, UL or custom specifications for specialized uses.
Each of STACI's affiliated manufacturing facilities has received ISO 9001 certification. Others have received QS9000 certification and are committed to yearly re-registration as an ongoing measurement of quality assurance. In addition, through in-depth surveys conducted by key customers, STACI has received numerous high quality ratings and supplier excellence awards.
Ensuring that quality always meets or surpasses world-class levels, STACI's factories utilize an advanced two and three dimensional Pro-Engineer Computer Aided Design (CAD) system to provide full design assistance to customers. The company's engineering and technical department is on-hand to test design prototypes against product manufacturability and other measures to ensure that customer performance and cost targets are reached. While STACI's CAD system offers accurate and speedy product development, the STACI team of specialists also provides a unique level of customer support utilizing its extensive knowledge of specialized manufacturing technologies and up-to-date production resources. This capability allows STACI to customize solutions for individual products, including automated wire and terminal processing, plastic and insert molding, ultrasonic and resistance welding, potting of electrical components, high-pot and leakage testing and vacuum impregnation.
As a supplier to several large motor vehicle manufacturers and Original Equipment Manufacturers (OEMs), STACI has demonstrated an ongoing commitment to operating excellence. The company's comprehensive program involves improvement measures such as work cells, synchronous manufacturing, just-in-time and 5S continuous improvement methods. STACI continually attains quality assurance through a multi-stage process that includes computerized Statistical Process Control (SPC), Failure Mode and Effect Analysis (FMEA), control plans, 8-discipline problem solving, key measurable tracking, gauge calibration, incoming inspection and final and dock auditing.
Responsibility and accountability are further strengthened at STACI by use of documented production and set-up procedures and a preventive maintenance program. Electronic Data Interchange (EDI) and Advanced Shipping Notices (ASN) provide immediate feedback and forecasting data to ensure on-time delivery and optimum material control.
Why STACI?
Total turnkey manufacturing capability
100% quality inspection and testing
Customized designs to a customer's specific needs
For more information:
STACI
905 Lakeside Drive, Unit 1
Gurnee, IL 60031
USA
---