Ssftty BW-E Series Thermal Protector
Featured Product from Saftty Electronic Technology Co., Limited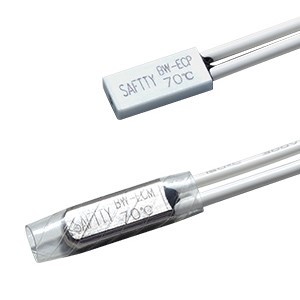 Key Benefits:
•Small size and easy to install.
• Low internal resistance, ?50mΩ.
• Snap type, sensitive to current and temperature and action quickly.
• Endurance life ofmore than 10000 cycles.
• Prevention against leak of vacuum impregnation process.
• Double protection of over-current & over-temperature.
• Lead can be customized.
• Replacer of 4MM/6MM from SENSATA, IP405/505 from ISUZU and other imported products from PEPI. Rechargeable battery pack.
Applications:
• Battery packs and charging gun
• Motor hood cabinet
• AC motors, landscape water pumps
• Fluorescent lamp ballasts
• Transformers, solenoid switch
• Electric heating appliances
• Portable power tools
Specification
Item No.

BW-ECP

BW-ECM

Voltage&Current

250VAC/2A




24VDC/3A

250VAC/2A




24VDC/3A

Case material

Plastic

Metal

Case size(mm)

12*5.5*2.4

12.5*5.0*2.5

Open temp. range

45~160°C

45~160°C

Lead wire

UL3398 22#(ST) 70mm

Certification

UL:E336150/VDE:40051318/CQC:19002217409