Hexoloy® SE Sintered SiC Rollers for Hearth Kilns
Featured Product from Saint-Gobain Performance Ceramics & Refractories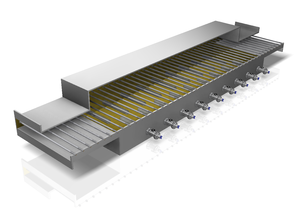 Roller hearth kilns (RHK) are used to fire many consumer products, such as porcelain, tiles, and Lithium Ion powder for batteries. A critical component of the RHK is a reliable roller. A hearth made of rotating rollers moves products through the kiln. Rollers can be made of high alloys or various ceramic materials. Among ceramic materials, rollers can be made from Mullite, Alumina, and Silicon Carbide. Selection of roller material must be made on many factors, including:
Service temperature
Roller load carrying capacity
Corrosion and erosion of the rollers from environment in the kiln
Cost
Roller reliability and life
Kiln designers must pay attention to following properties of the candidate materials for rollers:
Mechanical properties, such as bending strength under load at high temperatures
Chemical properties, such as corrosion resistance and oxidation resistance
Thermal properties, such as thermal conductivity, thermal expansion and shrinkage, thermal shock resistance
Straightness as installed and under load at high operating temperatures i.e. low creep
Silicon carbide offers an optimized blend of all the key properties that rollers require. Saint-Gobain Engineered Ceramics business offers two types of Silicon Carbide rollers, Hexoloy® SE SiC, and Silit SiSiC. Hexoloy® SE is pure sintered alpha Silicon Carbide with a maximum service temperature of 1650°C in air. Silit SiSiC is Silicon Carbide infiltrated with silicon metal and has a maximum service temperature of 1350°C. Hexoloy SE SiC offers higher strength, stiffness and bending performance at operating temperature. This means Hexoloy rollers can have thinner walls but still offer same load bearing capability as thicker wall SiSiC rollers.
With increasing use of Lithium Ion batteries in consumer electronics and electric vehicles, battery makers are increasingly relying on roller hearth kilns capable of running at a range of temperatures, with increasing loads to allow higher productivity, and long, uninterrupted service life.
It is common to see roller hearth kilns that employ both types of SiC rollers mentioned above; Hexoloy® SE in the high temperature zone and Silit SiSiC in moderate temperature zones. Both Silicon Carbide rollers are available in a range of diameters and length. Typical rollers are 34mm diameter, 5mm wall thickness, and 2220mm length. However, as the push for higher kiln throughput continues, Hexoloy SiC rollers up to 50mm outer diameter with 7-8mm thick walls in lengths up to 3350mm have been made and are operating in the field.
Saint-Gobain Engineered Ceramics has been producing reliable high quality rollers for more than 20 years. There are well over 100 kilns running successfully for a number of years, lined with Saint-Gobain SiC rollers, producing a wide range of consumer products. Please contact Saint-Gobain Engineered Ceramics Sales and Application Engineering staff for an optimum engineered design solution from a wide selection of rollers.
Visit our website for more information on SiC Rollers for Hearth Kilns.