Ceramics for Composite Armor Protection Systems
Product Announcement from Saint-Gobain High Performance Ceramics, Refractories and Hexoloy® Products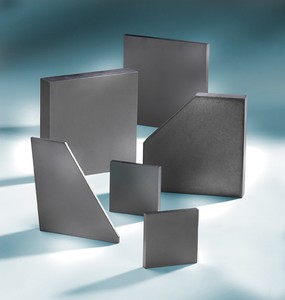 Saint-Gobain Ceramics offers a broad range of ceramic materials to meet your exact needs for composite armor protection systems. With 40 years of experience in composite armor systems, we can supply these materials as finished components, unfinished, machined blanks, pressed near net shape blanks, high volume pressed net shape components, and complex, highly machined parts.
Hexoloy® Sintered Silicon Carbide (SSiC) high hardness, compressive strength and light weight.
CRYSTAR® Reaction-Bonded Silicon Carbide (SiSiC) optimum strength and oxidation resistance.
Silit® SKD Reaction-Bonded Silicon Carbide (SiSiC) high modulus and high sonic velocity.
Norbide® Hot Pressed Boron Carbide (B4C) the third hardest material known to man, lowest density.
T196/T198 Alumina (Al2O3) hardest and most rigid of common oxide ceramics.
TZ3 (Alumina Zirconia) one of the hardest oxide ceramics.
Saphikon® Sapphire - extremely hard, durable and scratch resistant for IR window.
---