Custom Ceramic Armor
Product Announcement from Saint-Gobain High Performance Ceramics, Refractories and Hexoloy® Products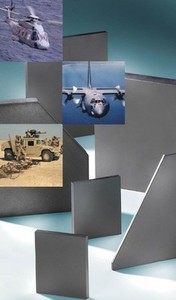 Hexoloy-Silicon Carbide SiC, Boron Carbide and Aluminum Oxide, provides ballistic armor protection and bullet resistant composite armour for military personal, vehicles, aircraft and police.
High performance, lightweight ceramic materials for composite armor protection applications.
Saint-Gobain Ceramics offers more than 40 years of experience, including Carborundum and Norton technologies, in the development of high performance materials for composite armor systems.
Our product lines feature a variety of sintered, reaction-bonded and hot pressed ceramic materials including:
Hexoloy® Silicon Carbide (SiC)
CRYSTAR RB® & Silit SKDH® Reaction Bonded SiC
Norbide® Hot Pressed Boron Carbide
Alumina
Zirconia Toughened Alumina (ZTA)
Reinforcements
Transparent materials
Proven Performance In Demanding Armor applications
Hexoloy-Saint-Gobain Ceramics' armor protection history includes the delivery of more than 46,000 variable armor system vests to US Army soldiers in Vietnam during the late 1960s. Since then, we have developed numerous SiC and B4C armor protection systems with superior ballistic protection capability for defeating high
velocity projectiles for a full range of ballistic
protection applications including:
Transport Aircraft Armor Protection
Helicopter Armor Protection
Land Vehicles Armor Protection
AC-130U Gunships Armor Protection
Body Armor: XSAPI, ESAPI, SAPI for military and police protection
---