Custom Technical Ceramic Materials
Featured Product from Saint-Gobain Performance Ceramics & Refractories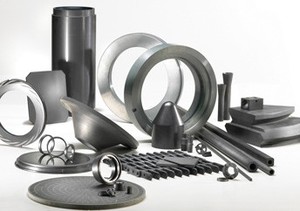 Technical ceramics also are known as Engineered, Advanced, Special, and in Japan, Fine Ceramics. Technical ceramics are classified in three distinct material categories:
Oxides: Alumina, zirconia
Non-oxides: Carbides, borides, nitrides
Composites: Particulate reinforced, combinations of oxides and non-oxides.
Technical ceramic materials are able to withstand harsh environments and are used in numerous applications requiring high corrosion (or wear) resistance, high erosion resistance, high temperature capability and low electrical conductivity. Many industries including automotive (engine), industrial (wear), medical, electronic and defense rely on technical ceramics to solve difficult problems.
Technical Ceramics at Saint-Gobain
Saint-Gobain Ceramics offers a wide range of technical ceramic materials for a wide variety of client applications. Our technical ceramic materials are used to manufacturer unfinished machined blanks, finished components, pressed near net shape blanks, high volume pressed net shape components, and complex highly-machined parts.
AlNimax™ HP Aluminum Nitride - high purity, fully dense ceramic material featuring excellent plasma resistance
Hexoloy® SA SiC - high hardness, compressive strength and light weight.
Enhanced Hexoloy® SA Silicon Carbide - exhibits reduced microporosity resulting in a higher Weibull modulus and increased flexural strength.
Hexoloy® SE Silicon Carbide - produced using Saint-Gobain's proprietary extrusion process with high strength and extreme hardness for severe environment applications.
Hexoloy® SG Silicon Carbide - electrically conductive analog of sintered silicon carbide.
Hexoloy® SP SiC - improves upon the exceptional low friction properties of Hexoloy SA SiC through the addition of spherical pores which act as fluid or lubricant reservoirs thus further limiting erosion.
Noralide® NBD-200 Hot Pressed Silicon Nitride - ideal for applications where maximum fracture toughness and flexural strength are required.
Norbide® Hot Pressed Boron Carbide - the third hardest material known to man, lowest density.