Furnace Solution for durable ceramic Rollers
Featured Product from Saint-Gobain Performance Ceramics & Refractories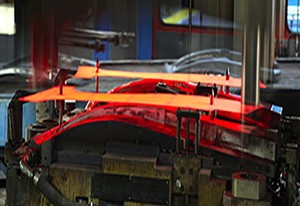 Hot Stamping is a key technology for the future of the automotive industry. The trend towards lightweight and electric vehicles supports the increasing demand for hot stamped body parts. Meanwhile, Tier-1 suppliers and OEMs are facing problems when trying to increase the efficiency of their furnaces measured usually with the OEE as a main KPI. Furnace rollers play a key role in equipment efficiency. After the quick heat?up of the metal sheets, the sheet coating partially melts and contaminates the rollers in this zone. This leads to several negative effects: unplanned and higher maintenance demand, offset of the blanks and subsequently problems with the robots in highly automated lines and last but not least breakages due to the buildup of the coating that solidifies on the roller surface. Breakages require a higher stock of spare parts and have a negative effect on the environment.
Saint-Gobain Performance Ceramics & Refractories with their R&D centers in North America and France developed a new type of ceramic roller out of silicon carbide with a patented coating that substantially improves the roller performance. The added value for our customers lies in the much longer lifetime of the Saint-Gobain products. Additional benefits are reduced time for maintenance, less offset of the blanks and therefore a better OEE of the kiln.
For the other zones, where contamination isn't a problem, Saint-Gobain offers classic Mullite rollers.