Heat Exchanger Efficiency, Uptime and Reliability
Product Announcement from Saint-Gobain High Performance Ceramics, Refractories and Hexoloy® Products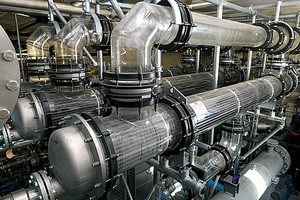 Hexoloy® Silicon Carbide Chemical Process Heat Exchanger Tubing
A superior alternative to metals, glass and other tube materials for enhanced heat exchanger efficiency, uptime and reliability:
High Thermal Conductivity
Virtually Universal Corrosion Resistance
Extreme Hardness and High Strength
Hexoloy® Silicon Carbide Heat Exchanger Tubes gives you a distinct advantage over other materials
Saint-Gobain offers Hexoloy silicon carbide chemical process heat exchanger tubing as a superior alternative to tubes made of metals, glass and other materials. Hexoloy SiC is a single-phase, sintered alpha silicon carbide offering high purity, fine grain size and extremely low porosity. Hexoloy SiC tubes offer distinct advantages to enhance the performance of shell and tube heat exchangers used in demanding applications from chemical processing to refineries.
---