Kiln Support Beams Increase Capacity
Featured Product from Saint-Gobain Performance Ceramics & Refractories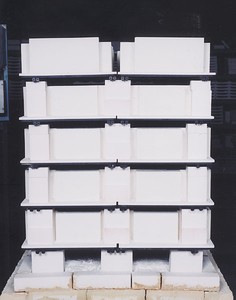 Maximize Kiln Capacity and Productivity
Hexoloy® SiC kiln support beams offer true low mass design potential for high temperature furnace applications. The excellent strength of Hexoloy allows for reduction of beam cross-section by 50% versus traditional refractory SiC materials, without compromising load-carrying capability.
Tunnel kiln retrofit enables addition of fifth deck, increases capacity by 25%
The tunnel kiln system used to process high alumina at 1520°C to 1540°C was retrofitted with Hexoloy SiC beams. The higher strength of Hexoloy SiC enabled the use of thinner beam cross-sections of 1/2" versus a 1 1/2" beam. This allowed for redesign and the addition of a fifth deck to a typical 4 deck arrangement within the same kiln.
The new Hexoloy 5-deck system:
Results in a 2 year payback. The annual savings and revenue realized will more that justify the investment by avoiding more costly capacity expansion alternatives.
25% increase in kiln capacity & productivity. Increases usable setting volume, allowing the live load to increase proportionately.
Features beams measuring 1/2" x 1/2" x 30" each and spanning 24" with a maximum load of 500 pounds per deck.
Avoids the negative economic impact of using periodic kilns (increased fuel and labor costs) to meet capacity requirements.
Hexoloy SiC offers improved oxidation resistance for longer life
In addition to increased capacity advantages, Hexoloy SiC kiln furniture has longer service life than traditional SiC refractory materials. The high density (lower porosity) of Hexoloy SiC results in beams that are less susceptible to oxidation.