LO-MASS® sustainable kiln furniture solutions
Featured Product from Saint-Gobain Performance Ceramics & Refractories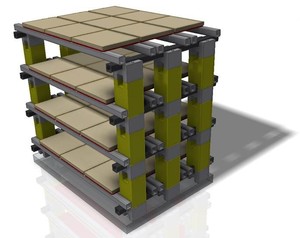 LO-MASS® components are customizable and flexible for whiteware and porcelain tableware firing systems. LO-MASS® solutions adapt advanced silicon carbide ceramic materials that offer significantly enhanced material characteristics as compared to traditional heavy mass kiln furniture systems.
Customers have reported substantially improved operating efficiencies after replacing cordierite kiln furniture with LO-MASS® advanced silicon carbide kiln furniture systems, including N-Durance® support posts and setter plates as well as Silit® SK support and stringer beams.
These systems offer several key benefits, including:
Maximize productivity
Improved sustainability
Lower refractory mass
Reduced energy consumption
Improved structural stability
Enhanced safety
Improved fired product quality
Faster ROI
LO-MASS® XXL plates are offered in a maximum size of 1,250x900x10 mm. This increased setting space offers many advantages, including:
Further reduction of structural supports and kiln furniture
Elimination of joints and seams underneath the product
Flatness retention over a large setting area
If you would like to learn more about LO-MASS® solution with a member of the Saint-Gobain team, simply contact us today.