Refractories for Copper Melting in Shaft Furnaces
Featured Product from Saint-Gobain Performance Ceramics & Refractories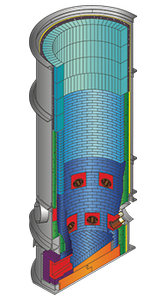 Refractory Solutions for Shaft Furnaces
At Saint-Gobain, we always strive to deliver the perfect refractory solution per customer specifications. In copper melting shaft furnaces, this means taking into consideration both thermal demands and unique geometries, but also the chemical aggressiveness of molten copper with varying chemical compositions. Our latest refractory solution for copper shaft furnaces falls under the Cryston® line; a tailormade range of refractory bricks for challenging hot face environments.
Cryston® CU Max is a copper-resistant refractory based on oxy-nitride bonded silicon carbide (SiC), It exceeds conventional nitride and clay-bonded SiC refractory solutions in secondary copper production owing to its superior chemical resistance and outstanding resistance to oxidation. Combined with superb all-round mechanical characteristics, Cryston® CU is the perfect refractory solution for hot face brickwork in shaft furnaces.
By engineering high-performance refractory solutions for critical industries, we aim to promote greater efficiency and cleaner processes across the broadest possible spectrum of working environments. This yields a range of tangible benefits, from greater throughput to reduced waste, providing all-round improvements to profitability and sustainability.