Rokide® Spray Units and Rods
Featured Product from Saint-Gobain Coating Solutions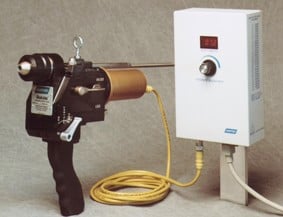 The ROKIDE® Spray System is unique because it utilizes ceramic oxide rods. The rods are melted in a patented spray unit which projects the fully molten particles onto the substrate. The ROKIDE® particles cannot leave the spray unit until fully molten. These particles have high kinetic energy and high thermal mass, so they remain molten until they reach the substrate.
ROKIDE® coatings have higher particle-to-particle cohesive bonding. Powder systems, by contrast, project smaller particles into a high-temperature gas stream and the lower dwell time does not allow all the powder particles to melt completely.
The deposit efficiency of the ROKIDE® system is not dependent on the thickness of the coating. Therefore, thicker coatings -- greater than .030 inch (.8 mm) -- if required, can be applied without a reduction in deposit efficiency or quality.
Rokide® rods are available in many ceramic oxide compositions for a wide range of applications. ROKIDE® rods are sprayed through portable ROKIDE® spray units driven by electricity. The surface to be coated is given an initial grit or pressure blasting with aluminum oxide to clean and roughen it. For proper roughness, the surface should have a hardness less than Rockwell C-50. This assures maximum adherence of the ceramic coating that may range from 0.005" (.127 mm) to 0.030 (0.8 mm) thick. Grit blasting is followed with a nickel chrome or other undercoat for increased bond strength and to minimize problems associated with the differential of thermal expansion between metals and ceramics. The base material should be able to withstand coating temperatures of 200-350°F (90-175°C). ROKIDE® coated surfaces can be ground to excellent surface finishes. They can be ground to as low as 2 to 4 RA using standard grinding equipment with properly specified silicon carbide or diamond grinding wheels. Flatness readings of less than 3 helium light bands are achievable using standard industrial lapping equipment. Complete information on proper ceramic grinding and lapping techniques can be provided.
ROKIDE® ceramic coatings, in conjunction with metal spray coatings, can be applied to metals to form a metal/ceramic composite with a controlled thermal gradient. This technique has proven successful in producing composites with varying heat transfer and insulation characteristics required for various applications.
For special applications where enhanced electrical or corrosion resistant properties are required, impregnants can be used to fill the 1-2 micron pores of some ROKIDE® coatings. Epoxy, phenolic, polyester and silicone resin sealants have been used successfully.
Rokide® rods are available in Aluminum Oxide, Chromium oxide and Zirconium oxide.
Click here for additional information.