Catalyst Carriers -- Development and Production
Product Announcement from Saint-Gobain Innovative Materials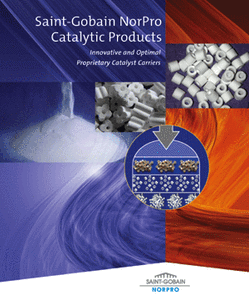 Saint-Gobain NorPro is the world's leading supplier of merchant catalyst carriers. Applying the more than 60 years of experience we have gained co-developing carriers with catalyst clients, we custom engineer the physical and chemical properties of a variety of materials and shapes to provide the optimal proprietary carrier for each customer-specific need.
We can sharply reduce the time required to bring next generation of catalyst to market by collaborating with the client through all stages of the carrier development process. Saint-Gobain NorPro works in tandem with clients, usually under Secrecy Agreement, to optimize the catalyst development process.
We are experts in Catalyst Carrier development and production --
Raw material selection know-how
Materials science knowledge
Tailored carrier properties/chemistry
Forming technology
Scale-up via semi-works facility
Consistent large-scale production
Please view our brochure, "Innovative and Optimal Proprietary Catalyst Carriers" for more details.
---