Ceramic Material Solutions for the HPI
Product Announcement from Saint-Gobain Innovative Materials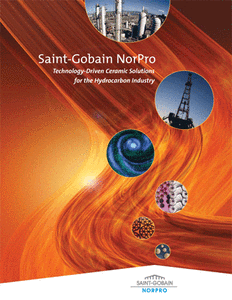 Saint-Gobain NorPro offers a brochure, "Technology-Driven Ceramic Solutions for the Hydrocarbon Industry."
Saint-Gobain NorPro's Hydrocarbon Industry brochure details the company's ceramic product solutions and the diversity and history of these products.
Saint-Gobain Proppants -- Ceramic proppants are the most effective materials available for hydraulic fracturing. Their spherical shape and inherent strength enable them to be used in the deepest wells.
Denstone® Bed Support Media -- The most trusted and recognized support media in refining, petrochemical and gas processing. Denstone media optimize reactor performance, economy and reliability -- the result of raw materials monitored to the highest standards of quality and consistency and a tightly controlled manufacturing process.
Catalyst Carriers -- The majority of the world's manufactured goods are derived from products made by catalytic processing of fossil fuels. We tailor-make catalysts to our clients specifications utilizing a broad range of materials and shapes.
Heat Transfer and Mass Transfer Media, Internals and Grid Bar Assemblies -- The company extends its presence in mass transfer by developing exciting high-performance shapes and materials for Regenerative Thermal Oxidizers (RTO) with its special alkaline corrosion-resistant AlkawareTM material.
Bed Topping Media -- Pentarings, MacroTrap® highly-macroporous ceramic media, high surface area alumina rings facilitate increased production of clean fuels to meet the tightest environmental regulations.
---