Hydraulic Fracturing Ceramic Proppants
Product Announcement from Saint-Gobain Innovative Materials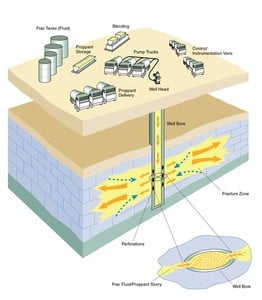 Saint-Gobain Proppants provides high strength proppants that allow effective hydraulic fracturing under these hostile conditions. Proppants are spherical ceramic beads about the size of a grain of sand made of a natural bauxite material. Proppants are fired at very high temperatures enabling them to maintain their integrity under high temperature and closure stress.

Fracturing a well by an oilfield service company involves pumping a fracturing fluid containing proppant into a well and into an oil or gas reservoir generally using high rate and pressure. Pumping continues until fractures are initiated and desired fracture geometry is achieved. The proppants, which are suspended in the fracturing fluid, are injected into the fractures in the rock to prop these fractures open after the fracture fluid is recovered. The resulting proppant pack provides a highly conductive pathway for fluids to flow from the reservoir into the wellbore.
Visit us for more details.
---