Industrial Materials for Concentrated Solar Power
Product Announcement from Saint-Gobain Innovative Materials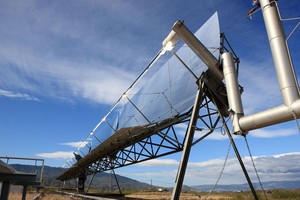 Saint-Gobain decided to play a key role in the Solar field especially in Concentrated Solar Power technologies. The goal of CSP is to design solar power plant which produce electricity from concentrated solar heat. Saint-Gobain produces components, pads, mirrors and central towers.

A strong development of solar activities are expected around the world. For instance in the USA the capacity installed amounted about 420 MW of solar power plants. But 7 000 MW of new projects were in the pipe, they are mainly of big size: 75 to 550 MW.

In Spain there are more than 12.000 MW of projects in study. A power station size is about 50 MW and the parabolic mirrors is the main used technology.
Saint-Gobain CSP regroups all activities among Saint-Gobain Innovative Materials which design components for Solar Power Plant. From mirrors to thermal storage we developed innovative technologies to offer the best with the sun energy.
---