Self-Lubricating, Maintenance-Free Bearings
Product Announcement from Saint-Gobain Innovative Materials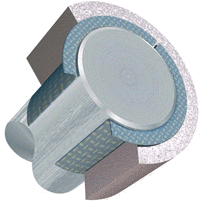 NORGLIDE® Bearings are self-lubricating, lead free, plain bearing, custom manufactured to reduce maintenance and lower friction and are available with a flexible bearing tape or with a metallic backing. Using a wear resistant PTFE with the addition of appropriate fillers gives the material specific properties which can alter its strength and coefficient of friction and allows it to be used in many different applications.
Automotive applications include door hinges, pedal linkage systems, shock absorbers, seat linkages, hood, trunk and sun-roof mechanisms, brake, suspension and transmission assemblies.
NORGLIDE® bearings also have many applications in the automotive, leisure and industrial markets.
Visit our website for more details about NORGLIDE® Bearings and RENCOL Tolerance Rings. www.bearings.saint-gobain.com
---