Ceramic Random Tower Packing
Featured Product from Saint-Gobain NorPro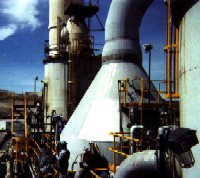 Saint-Gobain NorPro has advanced its ceramic technology to meet the increasingly stringent demands of the mass transfer market. Today, the company offers mass transfer products in three standard chemical-resistant ceramic materials: chemical porcelain, Aludur® ceramic and chemical stoneware. Other materials are available for special applications.
Norton™ saddles, the mass transfer industry standard for ceramic packing, are the packing of choice for reliable corrosion-resistant performance.
Norton™ Super saddles is the packing of choice over standard ceramic saddles. For example, the No. 1 Norton Super Saddle offers 35% lower pressure drop and slightly improved mass transfer efficiency than comparably sized traditional saddles. The No. 2 Norton Super Saddle provides approximately 25% lower pressure drop with 5 to 30% greater mass transfer efficiency than the corresponding-sized standard saddle.