Fixed Bed Support Media Saves Time & Money
Featured Product from Saint-Gobain NorPro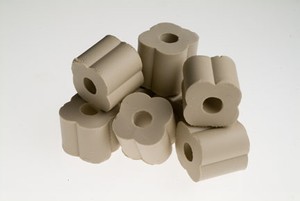 New engineered media is unlike any traditional spherical bed support media
Denstone® deltaP® media increases the performance of your reactor. This technological breakthrough offers multiple benefits, improving your overall operating performance and bottom line results.
Pressure drop is a key indicator of a unit's performance, and Saint-Gobain NorPro's R&D team designed Denstone deltaP media to have a significantly lower pressure drop across the support bed.
Product Benefits
Improved pressure drop peerfomrance across the support bed
Fewer layers required to retain catalyst bed
Faster, less complicated installation
Reduced support media volume, allowing more catalyst
For more details, visit our Denstone® deltaP® support media product information.
To view other support media products, visit: www.norpro.saint-gobain.com/support-media