Guard Bed Media Enhances Reactor Performance
Product Announcement from Saint-Gobain NorPro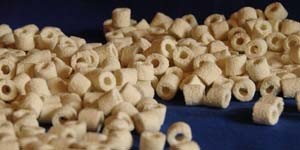 New MacroTrap® XPore 80 guard bed media is a highly macroporous ceramic media. It's purpose is to protect the catalyst bed from premature fouling due to unwanted particulates accumulating on the catalyst bed.
Processing a variety of feedstocks presents unique challenges for today's refiners. Maintaining desired unit cycle length is critical. As a result, the catalyst must be protected from contaminants to ensure catalyst productivity.
Reduced catalyst activity could lead to an undesirable return on investment on the main catalyst bed. The "XPore 80" naming indicates that macropores account for ~80% of total pore volume. This is significant as it permits filtering an extended range of particulate contaminant sizes.
View the data sheet for more details: MacroTrap® XPore 80 Guard Bed Media (.pdf)
---