Torque Overload Protection in Robotic Applications
Featured Product from Saint-Gobain Performance Plastics - Bearings and Tolerance Rings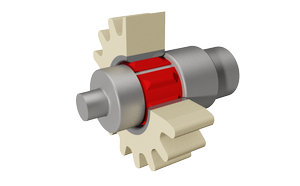 RENCOL® Tolerance Rings prevent damage to components within the drive systems of robotic devices. They prevent a torque overload to drive system components in situations such as shock loading conditions. Within a compact and space-saving coaxial package, RENCOL® Tolerance Rings provide an instant response to torque overload events, and this protection is provided regardless of whether or not the system is under power.
RENCOL® Tolerance Rings fix driven components together and transfer torque until a particular torque threshold is exceeded, and this gives designers the flexibility to incorporate lighter and smaller motors and transmissions into their robotic systems. In addition, tolerance rings allow for stable torque values over multiple torque slip cycles, which allows for improved responsiveness in motion control.
Saint-Gobain provides a variety of RENCOL® Tolerance Ring products, which provide robotic system benefits such as:
Reduced system inertia
Increased system acceleration and responsiveness
Stable and consistent torque over multiple cycles of operation
Reduced system complexity compared to other alternatives
Simplified assembly
When activated, provides a quality of movement that avoids noise or vibration
Allows for increased tolerance compensation of mating components
When designing tolerance rings for our customers' systems, we take into account the mechanical characteristics of the mating components as well as those of the tolerance ring itself. The RENCOL® Tolerance Ring geometry is designed to provide the required radial spring properties, and the tolerance ring designs are evaluated using our FEA tools, and our in-house testing labs are used to evaluate actual torque transfer, axial retention forces, and concentricity in the installed condition.
Depending on the application specifics, we can design tolerance rings of various diameters, and in various widths, to satisfy different torque slip threshold performance requirements.
Today's robotic system companies want new opportunities to deliver products where space savings, lighter weight, and the ability to operate in less controlled environments are important. RENCOL® Tolerance Rings are designed, developed, and customized to offer these kinds of benefits and many more.
Learn more about our Robotic & Automation applications and how our engineers design torque slip solutions.
For more information, please check our website.