EMI & RFI Shielding Springs
Product Announcement from Saint-Gobain Performance Plastics - High Performance Seals, Polymer Components and Springs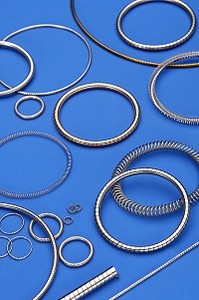 The OmniShield® product line is composed of four high-performance spring types capable of handling extreme service conditions while exhibiting excellent EMI/RFI shielding properties.
Saint-Gobain has been making these cross-section compression springs for Aerospace since 1958 and is unparalleled when it comes to spring technology and performance.
All parts are manufactured to order as customer satisfaction is of the utmost importance to Saint-Gobain. Custom attributes such as size, shape, material and coatings are as simple as an e-mail or phone call away. All springs are manufactured to Aerospace and U.S. Military specifications. RoHS and DFARS metals are available upon request.
Typical Applications
Avionics
Radar Systems
Microwave Systems
Shielding Cabinetry
Semiconductor Processing Equipment
Commercial and Consumer Electronics
Handheld Communication Devices
Military Applications
Medical Devices
Automotive Electronic Controls
Features and Benefits
Four unique springs
Load: Three standard load ranges from 2 lbs/liner inch to 67 lbs/linear inch
Resistance: 0.042 mOhms/per inch length to 27.10 mOhms/per inch length
Over 15 materials available
Five plating options available
View our OmniShield Application Data Form for application selection details.
---