Meldin® Aerospace Polyimide Materials
Product Announcement from Saint-Gobain Performance Plastics - High Performance Seals, Polymer Components and Springs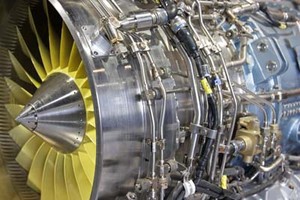 Saint-Gobain Performance Plastics has developed the Meldin® 7000 series thermoset polyimide materials for highly demanding wear/friction and temperature applications such as thrust washers, sealing rings, and bearings. The Meldin 7000 series materials are also well-suited for structural component applications requiring excellent electrical or thermal insulation properties, high purity, low outgassing, and outstanding chemical resistance.
Ideal for various applications, such as aerospace finished parts, Meldin 7000 exhibits a unique combination of performance properties, including dimensional stability at high temperature, and longer life at higher loads and speeds, fortifying the overall performance of key aircraft equipment and enhancing their operational efficiency.
In addition, Meldin 7000 provides OEMs with direct access to Saint-Gobain's design and co-engineering capabilities, material testing resources, and machining expertise, providing total process control from powder-to-parts.
The Meldin® 7000 series grades include:
Meldin 7001 – unfilled thermoset polyimide
Meldin 7021 – 15% by weight, graphite filled thermoset polyimide
Meldin 7211 – 15% by weight graphite/10% by weight PTFE filled thermoset polyimide
Meldin 7022 – 40% by weight, graphite filled thermoset polyimide
Meldin 7003 – 15% by weight, molybdenum disulfide filled thermoset polyimide
*Not all grades meet and comply with all specifications; Email Us to learn more.
---