Meldin Thermoplastic Materials for Rotary Vanes
Product Announcement from Saint-Gobain Performance Plastics - High Performance Seals, Polymer Components and Springs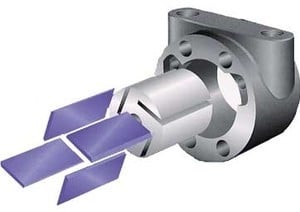 Rotary vanes made in Meldin® thermoplastic 1000 series, 5000 series, and thermoset 7000 series materials have excellent mechanical, frictional, temperature, and chemical properties that make them ideal material choices for demanding and even dry running vane pump and vane compressor applications.
Saint-Gobain Performance Plastics can produce various rotary vanes in these Meldin® material grades.
Meldin® rotary vanes offer superior chemical compatibility and durability over their phenolic and carbon graphite counterparts. Applications where Meldin® vanes provide great value include surgical and dental tools that require long life and guaranteed torque performance. Meldin® vanes excel in applications where there is no lubrication present, and surgical and dental tool air motors require no lubrication to the compressed air. Perfect for Meldin®!
These Meldin® materials exhibit good abilities to allow foreign particles to embed into them instead of shattering during operation, plus their self-lubricating properties allow them to operate in completely dry applications.
Complex vane part geometries can be done economically due to the fact that these materials can be either direct formed or injection molded.
---