Meldin Thermoset Vane Bushings & Bearings
Product Announcement from Saint-Gobain Performance Plastics - High Performance Seals, Polymer Components and Springs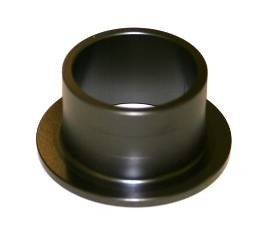 Jet engine vane bushings made in Meldin® 7000 series materials provide longer life and reduced maintenance costs.
Meldin® 7000 series materials are ideally suited for high temperature aerospace applications since they do not melt, plus they have a high thermal oxidative stability. Also, their self-lubricating properties enable them to operate without needing lubricants which tend to dry up and break down under high temperatures.
In addition, Meldin® 7000 series materials are compatible with aerospace fuels and oils, plus they are gentle against mating surfaces.
Major aerospace manufacturers such as Honeywell, Rolls-Royce, and Pratt & Whitney have written material specifications for the Meldin® 7000 series materials which are used in aerospace component applications.
Click here to see more about Meldin® vane bushings: www.seals.saint-gobain.com/seals-aerospace.aspx.
---