New Fluoroelastomer Material Extends Seal Life
Product Announcement from Saint-Gobain Performance Plastics - High Performance Seals, Polymer Components and Springs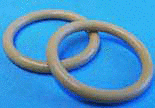 OmniFlex™ R22 is a new proprietary fluoroelastomer material grade that combines low temperature performance with improved compression set, low friction and longer wearlife in dynamic conditions. Its chemical resistance and inertness are nearly equivalent to perfluoroelastomer materials, yet R22 is significantly lower in cost.
As the newest addition to the OmniFlex™ line of sealing solutions, R22 has already proven its worth in an application involving air-actuated valves. Sealing such valves is always a challenge -- even for the most sophisticated sealing solutions -- but OmniFlex™ R22 met or exceeded all application requirements and is saving the customer thousands of dollars annually. The details exemplify Saint-Gobain Performance Plastics' ability to adapt existing materials to very specific customer applications.
The fundamental objective for this application was to improve the OmniFlex™ fluoroelastomer's wearability. Based on customer feedback, basic versions of OmniFlex™ already outlast perfluoroelastomers, but the customer was looking for an even longer wearlife. Because OmniFlex™ is liquid injection molded (LIM), fillers can easily be added to give the material the characteristics desired for any particular application. In this case, Saint-Gobain Performance Plastics developed a material formulation -- OmniFlex™ R22 -- that delivered on the customer's wearlife requirement while exceeding other performance criteria.
Following are the specific criteria the valve seal needed to meet, and the extent to which OmniFlex™ R22 exceeded them:
High reliability at sub-zero temperatures (-45°F) / OmniFlex™ R22 (-70°F)
Low compression set / OmniFlex™ R22 (3%)
Long seal life (1,000 cycles) / OmniFlex™ R22 (3,000 cycles)
Lower costs than perfluoroelastomers
Excellent chemical resistance / OmniFlex™ R22 (media: natural gas, sour gas, specialty fuels)
Using OmniFlex™ 22 enabled the customer to reduce seal redundancy from three seals to two. Fewer seals combined with a significantly lower unit cost compared to perfluoroelastomer seals means cost reductions greater than $30,000 on an annual basis.
More information on specifications, physical property values and chemical resistance ratings for the complete line of OmniFlex™ proprietary materials can be found at www.seals.saint-gobain.com.
---