Thermoset Materials for Semiconductor Components
Product Announcement from Saint-Gobain Performance Plastics - High Performance Seals, Polymer Components and Springs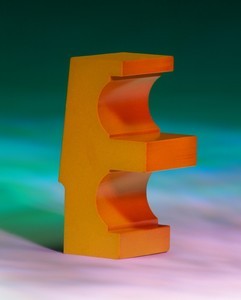 Meldin® 7000 series materials are ideal for semicon equipment chamber applications due to their high purity, low outgassing, superior plasma etch resistance, and other properties.
Meldin 7001, the unfilled thermoset polyimide grade, is widely used in semicon equipment such as CVD, PVD, sputtering, and other equipment. Typical Meldin 7001 components include clamp rings, coil keepers, focus rings, lift pins, lift pin holders, chamber gaskets, glass guides, and other components.
Due to its good ductility and easy machinability, Meldin 7001 often replaces components made in ceramics and PBI materials. Ceramics and PBI materials are much more brittle, and more difficult to machine than Meldin 7001 material. Meldin components are less expensive than ceramic or PBI components due to the fact that complex part geometry and features can be easily incorporated into Meldin components. In addition, Meldin 7001 components last longer than ceramic and PBI components due to the higher ductility of Meldin which makes it more durable and long-lasting in demanding dynamic applications.
For more details and examples of other electronics applications, visit: www.seals.saint-gobain.com/seals-electronics.aspx.
---