Alumina Abrasives for Auto Polishing Compounds
Product Announcement from Saint-Gobain Surface Conditioning Group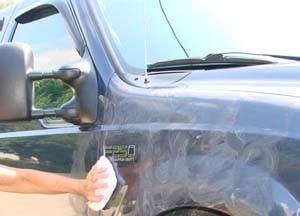 Saint-Gobain's 9246 polycrystalline alumina slurries are used in automotive clear coat finishing/polishing applications.
9246 is an aqueous slurry of alpha alumina crystals in which the fundamental crystal size ranges from 50 to 100 nanometers. The unique composition of extremely small and high agglomerated strength crystals enable very cost-effective polishing processes to be established while achieving very fine finishes on most materials. 9246 polycrystalline alumina slurry has demonstrated its effectiveness in the newest generation of automotive clear coat finishing. These highly engineered particles are designed to be compatible with most water/oil based compound chemistries, which makes them very user friendly and adaptable to complex slurries and polishing conditions.
9246 particles provide multiple cutting edges to rapidly fill in light scratches and swirl marks. It has successfully demonstrated that it can reduce haze values, while maximizing gloss readings in clear coat finishing applications.
---