Calcined Aluminum Oxide Powders for Fine Polishing
Product Announcement from Saint-Gobain Surface Conditioning Group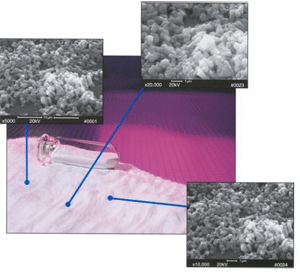 Alumina E Powders for Fine Polishing Applications
Saint-Gobain Ceramic Materials' sub-micron E-Powders are calcined aluminum oxide powders (99%+ purity), designed for use as functional fillers to enhance the properties of a product or for use as fine polishing abrasives.
In Magnetic Media applications, users report a reduced drop-out count due to the gentle, continuous cleaning action to the magnetic heads from the alumina additive in the media's surface layer. In structural ceramics and metal matrix applications, product strength is significantly improved using the sub-micron aluminas.
Saint-Gobain offers a wide selection of particle distributions and purities to meet the needs of your particular application and custom-engineered products can be made, if required.
Applications
Media filler: video tapes, audio tapes, data storage, ink jet
Polishing abrasive
Thermal management additive
Frictional additive
Wear resistance additive
Metal matrix
Structural ceramics
www.abrasiveparticles.com/alumina-epowders.aspx
---