Diamond & cBN Lapping and Polishing Compounds
Product Announcement from Saint-Gobain Surface Conditioning Group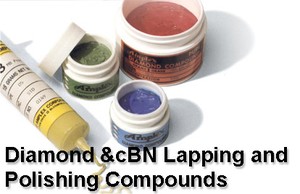 All synthetic, natural, polycrystalline diamond and CBN powders can be utilized in the manufacturing of compounds. Compound (bases) are typically supplied as "WS" (water soluble), "OS" (oil soluble), or "UN" (universally soluble). However, many additional compound formulations are available for specific applications.
Amplex lapping and polishing compounds are excellent for mold, die and tool polishing, polishing to final tolerance of ceramic parts, initial charging of lapping plates and discs, tool-room use, and other processes that require high finish and close tolerance performance. Your Amplex Representative can recommend the best formulation for your needs.
All components of Amplex compounds conform to all EPA and OSHA safety requirements.
---