Enhanced Norseal® PF Series for battery packs
Featured Product from Saint-Gobain Tape Solutions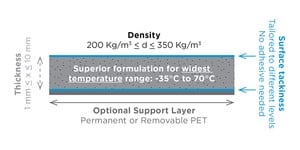 Versatility for automatic assembly - Enhanced Norseal® PF Series micro-cellular polyurethane foams!
Specifically developed for battery packs, Norseal PF Series has gotten a facelift with enhanced features that make it ideal for any automation process, type of cells or battery pack. In addition to an existing set of excellent performance features, including consistent performance across a wide range of temperatures and pressures, the following improved features boost this product line for easier adaptation in the assembly process of battery packs:
Inherently tacky surface of

Norseal

PF Series is supplemented with increased options to tailor the tackiness to suit the type of automatic pick-n-place assembly process
Higher range of densities to accommodate charge/discharge characteristics of different cell chemistries and different cell formats (pouch/prismatic)
Now available in extremely low thickness and density combination, without any supporting PET layers, to maximize the cell density in a pack, wherever needed
Wherever the application demands, there is an optional flexibility to include a PET liner that is either permanent or removable
Enhanced Norseal PF Series is here to provide the critical one-stop solution for a variety of cells and pack assemblies for the growing Electric Vehicles market.
Providing customized solutions is at the core of Saint-Gobain Tape Solutions and the enhanced PF Series product line is an embodiment to that principle. Learn more about the options available for your next project.