Green Glue Noiseproofing Compound by Saint-Gobain
Featured Product from Saint-Gobain Tape Solutions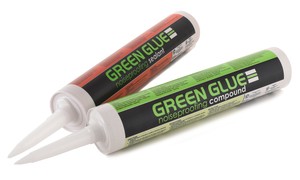 Green Glue Noiseproofing COMPOUND is used between two sheets of drywall for walls and ceilings or plywood for subfloors to significantly reduce the amount of sound transferring from one room to another. After hanging the first sheet of drywall you apply the Green Glue Noiseproofing Compound in a random pattern to the back of a second sheet while on a clean flat surface. It has a low viscosity so applies very easy with recommended rate of two tubes per sheet of drywall. Hang the second sheet staggering the seams and secure with appropriate screws. Green Glue works by remaining tacky and never drying out or becoming rigid like conventional adhesives. It is available in 28 oz. tubes and 5 gal pails and is applied usinng a standard quart size caulk gun. Green Glue is easy to use, cleans up quickly with soap and water and is an environmentally friendly product. It is certified by UL Environmental to have no formaldehyde emissions and be mold resistant.
Additional Noiseproofing products in the range include Green Glue acoustical SEALANT for sealing gaps between walls and ceilings and floors as well as spaces around electrical boxes and light fixtures, and Noiseproofing CLIPS used to mechanically separate two sides of a wall to improve sound transmission by allowing one side to vibrate independently from the other.
In a conventional wood stud wall you can achieve a 75% improvement in STC rating (from 40 to 52) by using Green Glue Noiseproofing Compound on one side. Visit www.greengluecompany.com to see how the STC rating can be increased using Green Glue products in a wide range of wall constructions. Green Glue is suitable for new construction and renovation and can be applied by professional contractors and DIY's.