Norseal Silicone Rubber Gasket
Featured Product from Saint-Gobain Tape Solutions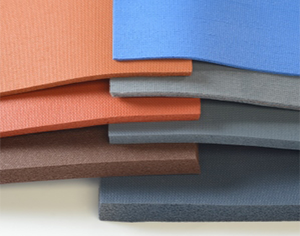 Norseal is the trade name for Saint-Gobain Performance Plastics family of high-performance silicone rubber products. Flexible, resilient silicone rubber has a unique chemical structure that gives it high temperature stability and general inertness unavailable in any other elastomer. As a result Norseal silicone rubber works in applications where no other material can be used with the main function as a gasket for specific target markets that includes military, aerospace, electronics, medical, transportation and packaging. Among the many gasketing applications for Norseal silicone rubber we can mention gasketing thermal shielding, military gasketing, moisture-resistant gasketing/sealing and transportation gasketing.
Silicone's physical properties are not adversely affected by prolonged exposure to temperature from -100°F to +500°F. In addition it can withstand intermittent exposure to even higher temperatures. Silicone far outdistances other elastomers in resistance to thermal degradation and outperforms other elastomers in general service life, compression set resistance, electrical strength and nonstick properties. Silicone also has good chemical and fluid resistance. At elevated temperatures, silicone will outgas far less than other silicone elastomer.
Norseal silicone rubber is odorless, tasteless and nontoxic. It contains no acid-producing chemicals and therefore is noncorrosive and nonstaining. Silicone rubber has excellent weather ability because it is unaffected by sunlight, ozone and/or extremely moist or dry conditions. It will not support the growth of fungus. The service life of NORSEAL silicone rubber in room temperature application is virtually unlimited.
General purpose silicone rubber itself is versatile material. Beyond that, there are different types available for specific application. Below are some of the types of silicone rubber offered for specific applications.
Norseal Silicone Solid Rubber
Norseal silicone solid rubber in square sheet and continuous length form has a smooth, blemish free surface. It is available in degrees of hardness from relatively soft 30 durometer to the relatively hard 70 durometer on the shore A scale. It is manufactured in different formulations to provide a choice of physical properties and costs considerations. The series 300-700 and 9030-9070 are general purpose. Series 9200 is a high performance product, that provides excellent tensile strength and superior tear resistance. It is tougher and more resilient than general purpose silicone.
Norseal Reinforced Solid Rubber
Norseal silicone rubber reinforced with fiberglass is dimensionally stable, durable material for press pads, belting and Gasketing. It is available in six constructions:
Norseal Reinforced Solid Rubber 3320 – Was developed to meet AMS 3320. Has lubricating oil resistance and excellent compression set resistance.
Norseal Reinforced Solid Rubber 4032 and 4050 – Are thin, flexible and abrasion-resistant for general purpose use.
Norseal Reinforced Slid Rubber 4420 – Is specially formulated for thermal stability and long life under extreme heat and pressure for extended dwell times. Has thermal stability for consistent thermal conductivity.
Norseal Reinforced Slid Rubber 4444 – Has specially formulated rubber compound to give better reversion resistance. The reinforcement is a special crush-resistant fiberglass, making the product excellent for press pads in high-temperature and pressure lamination applications.
Norseal Reinforced Slid Rubber 4480 – Utilizes our most reversion resistant silicone rubber compound. The product is designed for use in applications involving the tough combination of prolonged high pressure confinement at temperatures up to 600°F.
Norseal Silicone Sponge Rubber
Flexible, compressible NORSEAL silicone closed-cell sponge is designed for high performance Gasketing, thermal shielding, vibration mounts and press pads. It is available in six constructions.
R10470 – A general-purpose silicone sponge, can be used in most applications.
R10480 – Has extremely low compression set and maintains its resiliency even under extended compression.
R10460 – Is flame retardant. When held in a vertical position and exposed to a 2,000°F flame for 12 seconds, there is no residual flame. Like R10480, it is especially resistant to compression set.
R10450 – Silicone sponge with fiberglass reinforcement is a unique construction. It has the compressibility of sponge, plus dimensional stability in the X-Y direction. The absence of stretch contributes to the consistent size and shape of die-cut parts and eliminates outward extrusion under pressure.
R10490 – Fluorosilicone sponge rubber can be used as a gasket where it is necessary to contain fluids that would degrade normal silicone sponge and solid materials.
R10404 – Closed-cell conformable silicone rubber sponge is designed for use where both conformability and heat transfer are necessary, such between printed circuit boards and heat sinks, decal transfer or applying heat activated adhesives.
R10400 – Offers the best flame-retardant properties in our closed-cell silicone products. Pass UL 94 with V-0 rating. R10400 also offers excellent solvent resistance and is compatible with 21 CFR177.2600 FDA extractable for food contact.
Norseal Silicone Foam
Low-density, flame retardant NORSEAL silicone foam yard goods provide outstanding performance for industries ranging from aviation and mass transit to automotive, electronics, construction and furniture. In addition to UL 94 V-0 listing in thicknesses down to 1/8", it withstands a 2100°F flame for more than 10 minutes without burning through in thicknesses down to 3/8".
Norseal Silicone Foam F12 is a low density, flame retardant silicone foam, with a nominal density of 12 lb/cu ft. Noncorrosive for use with metals and in hostile environments, it has low compression set. Among its applications are fire blocks, thermal barriers, noise and vibration dampeners, insulation and high-performance gaskets or seals. For the aviation, automotive and mass transit industries, it offers a high degree of design flexibility.
Norseal Silicone Foam F20 is a medium density, flame retardant silicone foam, produced in yard goods. Density around 20 lb/cu ft. It is a closed cell foam water tight. F20 also has low compression set and is non-corrosive. It has a broad range of applications in aerospace, transit and general industrial applications.
Norseal Strip- N-Stick Silicone Tape
Norseal strip-N-stick tape provides all the benefits of silicone rubber in an easy-to-apply, pressure-sensitive adhesive tape form. Compressible and flexible, it can conform to irregular surfaces, wrap over cylinders or be formed to produce right angles. Applications include Gasketing, vibration damping and thermal insulation. The tape reduces the need for expensive die-cut-parts. It also eliminates the high cost of bonding and will be slit to order from ½" and up. The following products are part of the strip-N-stick family.
Norseal Strip-N-Stick 100S - Is a silicone sponge with high temperature silicone adhesive.
Norseal Strip-N-Stick 200A – Is a silicone sponge with aggressive acrylic adhesive.
Norseal Strip-N-Stick 300AR – Is reinforced silicone sponge with aggressive acrylic adhesive.
Norseal Strip-N-Stick 440S – Is a1/32" thick shore A 30 durometer silicone solid with high temperature silicone adhesive.
Norseal Strip-N-Stick 440A – Combines 30 durometer solid rubber with a high-adhesion acrylic adhesive for an excellent 1/32" thick gasket material. It provides high elongation and good conformability.
Norseal Strip-N-Stick 512AF – Uses Saint-Gobain Performance Plastics' F-12 silicone foam along with film-supported acrylic pressure sensitive adhesive.
Thermally and Electrically Conductive Products
Conductive silicones offer many performance advantages to the electronic assembly market. By the use of special fillers, silicone can be made thermally or electrically conductive
TF1818-Thermally conductive reinforced elastomer
TF186X – Low cost thermally conductive fabric
TF187X –Higher performance thermally conductive fabric
TF40X – Medium performance product with excellent value
Saint-Gobain offers highly compliant gap fillers that provide heat transfer across a range of air gaps. These products are designed to accommodate today's shrinking board sizes, which require materials that efficiently expand to fill uneven spaces between multiple components and heat sinks with minimal compression force. Our gap filler product line provides world-class performance with low compression force while ensuring excellent thermal conductivity and providing a superior, cost-efficient gap filler solution.
TC100 – Tough, tear resistant gap filler
TC100U- Uncured material used for bonding
R10404 – Thermally conductive sponge
TC 2006- Low cost gap Filler
TC3006 – Ultra soft gap filler
TC3008 - Soft Superior Performance