Rugged, Space-Saving Q Rate® High Speed Interface
Product Announcement from Samtec Inc.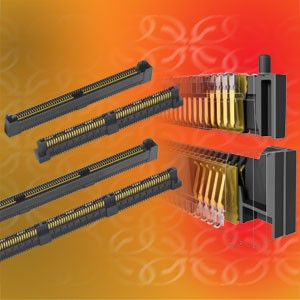 The new Q Rate® Interface System is Samtec's next generation of high speed, controlled impedance interconnects. Rugged Edge Rate™ contacts and an integral metal power/ground plane (rated to 8.9A) provide superior electrical and mechanical performance, while the slim 5mm body design makes it ideal for applications with limited PCB real estate.
The Q Rate™ Interface System (QRM8/QRF8 Series) is available with up to 78 contacts per row on 0,8mm pitch, and is capable of an estimated performance rating of up to 8.5 GHz DP and 9.5 GHz SE at -3dB insertion loss.
The Edge Rate™ contact system allows for high cycles and low insertion/withdrawal force, and features a long 1,39mm contact wipe, which improves the mating angle tolerance, allowing the system to remain robust while "zippering" during unmating. Optional guide posts are also available, and a right angle version is in development.

Play Rugged, Space-Saving Q Rate® High Speed Interface Video
---