RoHS Compliant Sankosha LAN Protectors
Featured Product from Sankosha U.S.A., Inc.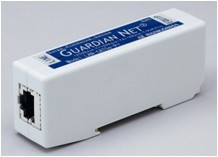 Sankosha LAN Protectors
Applications:
10/100/1000 Base-T Ethernet
Transporation / Traffic Systems
Power Over Ethernet (PoE)
Wireless Client Devices
Surveillance Cameras
IP Security and Phone Systems
Advertising Billboards / Displays
Network Appliances
Features:
Gigabit Ethernet In-Line Protection
Complies with IEC 61643-21, 61000-4-5
IEEE 802.3ab Compliant
Cat5 and Cat5e Performance Rating
Connector Style: RJ-45 STP In/Out
35 mm DIN Rail or Surface Mountable
Lead-Free (RoHS Compliant)
All pins protected
Sankosha's gas tube arrestors are known for their quality. Throughout the world, products from our factories provide protection for equipment and personnel. Sankosha has been selling gas tube arresters in the U.S. since the seventies and Sankosha U.S.A., Inc., the company's 100% owned subsidiary, was established in 1987 to better service the growing market in the Americas.
Different applications require different surge suppressors and Sankosha provides gas tubes to meet every need. Consumer electronics, modems, satellite, computer, CATV/Broadband, industrial, and telecom circuit protection are just a few areas that utilize our gas discharge tubes. Sankosha's gas discharge tubes are extremely durable and provide the industry's best impulse life specifications. They feature high surge ratings with very low capacitance and provide excellent response to fast rising transients.