Sankosha U-Series Gas Tube Arresters
Featured Product from Sankosha U.S.A., Inc.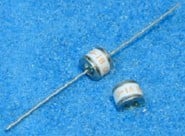 Applications:
Cable Telephony Products

Modems/Cable Modems

Broadband/CATV/Coaxial Protectors

xDSL Modems and Peripherals

Building Entry/Outside Plant

Transient Voltage Surge Suppression
Features:
UL 497B Recognized (File E140906)

High Surge Current Rating

Non-Radioactive

RoHS Compliant (100% Lead-Free)

ISO 9001 Certified

Low Capacitance ≤ 1pF
Sankosha's surge arresters provide fast protection for personnel, equipment and circuitry from high transient voltages and limit resulting dangerous currents. These hermetically sealed gas discharge tubes have precise spark over voltages and the ability to handle high current surges. We offer a wide variety of GDT's and it is important that arresters be selected in accordance with the requirements of the particular application. Arresters for special applications are also available and we welcome your inquiries if the model you need is not on our website.