S1000FX-GX Filter/UV Sterilization
Product Announcement from Sanuvox Technologies, Inc.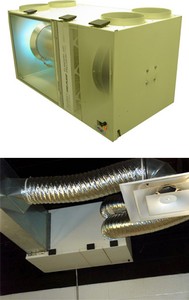 The S1000FX is equipped with a 1750-CFM backward impeller blower and can be used as a stand alone system or installed into the existing ventilations system.
In addition to the patented Sanuvox UV process, the S1000FX clean room option is equipped with two 30 inch UV "J" lamps (one Germicidal UVC Lamp and one Germicidal/Oxidizing UVC/UVV Lamp) for complete biological and chemical protection. Up to four 30 inch UV "J" lamps can be incorporated into the S1000FX. The Clean Room option includes a 99.97% HEPA Filter, which will trap particles down to 0.3 microns (1/75000 of an inch) in size.
Features:
Destroys biological contaminants such as mold, bacteria, viruses, germs and allergens
Destroys chemicals & biological odors
Stand-Alone installation or can be ducted to multiple rooms
Two 1" pre-filters and one 4" 95% ASHRAE pleated filter
"Clean Room Option" includes HEPA filter to capture particles down to 0.3 micron in size & additional UVC "J" Lamp
1750 cfm. blower, Under load with filters, 1000 cfm
Aluminum Reaction Chamber maximizes UV intensity
High-Output Ballast
Patented Design & Sanuvox Quality
Warranty: Lamp 12,000 hours, Motor: 1 year, Ballast: 3 years
CE Approved
Sanuvox Technologies Inc. is a global leader in ultraviolet air
treatment providing the most advanced cost-effective In-Duct &
Stand-Alone UV Air and Coil Sterilization Systems available. Proprietary
Sanuvox UV Systems are designed to maximize exposure time delivering
the Ultraviolet energy required to deliver exceptionally high airborne
disinfection rates.



In-Duct & Stand-Alone Sanuvox systems are used around the world
in residential, commercial, institutional, medical and military
installations and has been widely accepted to be the most effective air
sterilization systems available.



Established in 1995, Sanuvox Technologies mission was to design a
line of residential and commercial UV Air Sterilization Systems that
would address Indoor Air Quality (IAQ) issues and Sick Buildings. For
more than 17 years, our continued investment into research &
development and our drive to bring the latest technologies to market has
produced a line of Residential and Commercial Air Purification Systems & Commercial UV CoilClean products that are unsurpassed in the industry.

---