S300FX-GX HEPA/UV System
Product Announcement from Sanuvox Technologies, Inc.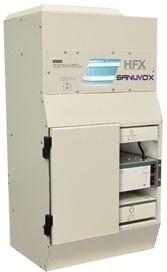 The S300FX-GX is designed for applications that require filtration and purification. The S300FX-GX can be used as a stand-alone system mounted to a wall or on wheels.
The included HEPA Filter is 99.97% effective, trapping particles down to .3 microns in size. Purification is done through Germicidal Photo-Oxidation. The air is pulled through the UV Reflecting Box where the air is bombarded with UVC & UVV light destroying the biologicals and chemicals in the air. The air continues to pass through the pre-filter and finally the HEPA filter.

The 300 cfm blower is equipped with two speeds. The S300FX-GX can also be ducted-in/out using flex-duct and can aslo be mounted to a duct for duct-mount installations.

By combining HEPA Filtration and UV Purification, Sanuvox is able to offer a complete IAQ solution with one unit.
FEATURES
Destroys biological contaminants such as mold, bacteria, viruses, germs, allergens
Destroys chemicals & biological odors
Stand Alone / Wall mountable, can be ducted to multiple rooms
Pre-filter & True HEPA Filter captures particles down to .3 micron in size
300 cfm. 2 speed blower
Patented 19 mm. Pure Fused Quartz UVC/UVV Lamp
Reflecting Box maximizes UV intensity
High-Output Ballast
Patented Design & Sanuvox Quality
Warranty: Lamp 12,000 hours. Unit 5 years
CSA / US Certified & CE Approved
Sanuvox Technologies Inc. is a global leader in ultraviolet air treatment providing the most advanced cost-effective In-Duct & Stand-Alone UV Air and Coil Sterilization Systems available. Proprietary Sanuvox UV Systems are designed to maximize exposure time delivering the Ultraviolet energy required to deliver exceptionally high airborne disinfection rates.

In-Duct & Stand-Alone Sanuvox systems are used around the world in residential, commercial, institutional, medical and military installations and has been widely accepted to be the most effective air sterilization systems available.

Established in 1995, Sanuvox Technologies mission was to design a line of residential and commercial UV Air Sterilization Systems that would address Indoor Air Quality (IAQ) issues and Sick Buildings. For more than 17 years, our continued investment into research &
development and our drive to bring the latest technologies to market has
produced a line of Residential and Commercial Air Purification Systems & Commercial UV CoilClean products that are unsurpassed in the industry.

---