Sanuvox R+ In-Duct UV Air Sterilizer (UVGI)
Product Announcement from Sanuvox Technologies, Inc.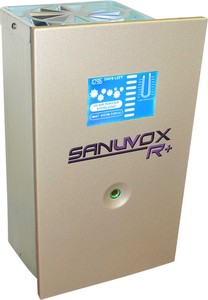 The Sanuvox R+ represents an evolution in UV In-Duct Air Treatment. The high-efficiency patented design destroys airborne bio-chemical contaminants while providing important user information on the 3" back-lit LCD display.
Installed into the return or supply plenum, the proprietary process maximizes dwell time between the air and UV energy. With the ability to treat homes up to 4,000 sq.ft., the Sanuvox R+ represents the very best in UV Air Purification.
Some of the contaminants the R4000GX destroys:
Mold, bacteria, allergens, viruses and germs, chemicals, VOC's, formaldehyde, cigarette smoke, diesel fumes, cooking & pet odors, and thousands of other contaminants.
FEATURES
UVC/UVV In-Duct Air Purification System
Whole home system designed to destroy viruses, germs bacteria, mold, chemicals, odors, allergens & VOCs
Patented process incl. dual zone UV 'J' Lamp, Turbulator and Reflecting Chamber mounted parallel to the airflow
Most advanced air treatment system available
Intelligent ballast automatically switches from 110V to 220V
Microprocessor controlled to automatically treat the air
Horizontal or vertical, up-flow or down-flow; the R+ Sterilizing / Oxidizing Chamber rotates 360°
Fiber board kit included
3 year warranty including UV Lamp. "No Hassle" 3 year system replacement warranty
3" LCD Back-Lit Display provides:
Real-Time system status
'Days Left' until Lamp replacement (3 years)
Countdown purifier animation
'Lamp Out' & 'Ballast Out' visual alarm
'Contractor Call-Back' indicator
Sanuvox Technologies Inc. is a global leader in ultraviolet air treatment providing the most advanced cost-effective In-Duct & Stand-Alone UV Air and Coil Sterilization Systems available. Proprietary Sanuvox UV Systems are designed to maximize exposure time delivering the Ultraviolet energy required to deliver exceptionally high airborne
disinfection rates.



In-Duct & Stand-Alone Sanuvox systems are used around the world in residential, commercial, institutional, medical and military installations and has been widely accepted to be the most effective air sterilization systems available.



Established in 1995, Sanuvox Technologies mission was to design a line of residential and commercial UV Air Sterilization Systems that would address Indoor Air Quality (IAQ) issues and Sick Buildings. For more than 17 years, our continued investment into research &
development and our drive to bring the latest technologies to market has produced a line of Residential and Commercial Air Purification Systems & Commercial UV CoilClean products that are unsurpassed in the industry.

---