UV Bio-Wall In-Duct Air Sterilization (UVGI)
Product Announcement from Sanuvox Technologies, Inc.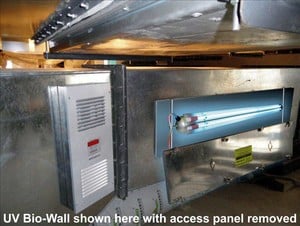 The patented UV Bio-Wall provides a "barrier wall" of UV Energy, destroying biological and chemical contaminants passing through it.
Each Bio-Wall uses five (5) High Intensity 19 mm Pure Fused UVC Quartz Lamps, which are mounted to Anodized Aluminum Parabolic Reflectors that reflect the full 360º of Germicidal energy. The Bio-Wall is mounted parallel to the airstream in order to maximize the contaminant's contact time with the UV Energy.
The UV Bio-Wall is equipped with a monitoring display built into the ballast box which includes a digital visual hour accumulator, monitoring LED's and "Lamp Out" alarms. Dry contacts allow for building automation integration.
The number and length (lamps up to 60" long) of Bio-Wall's will depend on the size of the duct, the velocity of the air moving within the duct, the specific contaminants to be treated and the desired % kill of the contaminants.
Applications include: Commercial, Institutional, Medical & Military Applications
FEATURES
Reduce airborne infection rates, building related illnesses, workplace absenteeism while dramatically improving Indoor Air Quality
Continuously treats the entire duct
Destroys up to 99.9999% of bio-chemical contaminants
Sanuvox provides detailed Real-Time Kill Rates & Sizing Calculations
Tested by the US EPA and National Homeland Security to destroy >99.9% of bio-contaminants on a single pass
Available in 40", 50" and 60" lengths
5 High-Intensity Pure Fused 19mm. Quartz UVC Lamps
Anodized Aluminum Parabolic Reflectors maximizes UV energy
Digital Timer, LED & audible alarm on ballast control panel
Available with Dry Contacts
Warranty: 15 Years Ballast; 2 Years UV Lamp
CSA C/US Certified and CE Approved
UV BIO-WALL SENSOR ACCESSORY
Sanuvox continues to innovate with a patent pending UV sensor which is capable of monitoring UV output for each individual UV Lamp in real-time, guaranteeing the UV output of any lamp will never fall below a predetermined level.
The UV sensor is ideal for those sensitive applications that must guarantee a specific UV dosage and takes into account: ballast failure, lamp failure, lamp aging, lamp cooling and lamp fouling in real time operating conditions.
FEATURES
Designed to work with the Sanuvox UV Bio-Wall
Easy cuff-style installation
Individual Sensors (5 per UV fixture) are shielded from the airstream
Specifically designed sensors to filter out all but UVC (254 nm) wavelength
Control LCD Panel monitors each individual UV Lamp in real-time
Dry contacts allows for building automation integration
Audible alarm sounds should the UV output of any lamp fall below the predetermined setting
Aluminum construction and UV resistant cable set
The only UV monitoring system of its kind. A must for those applications that require a specific UV dosage guarantee.
---