UV CoilClean Coil Sterilizer (UVGI)
Product Announcement from Sanuvox Technologies, Inc.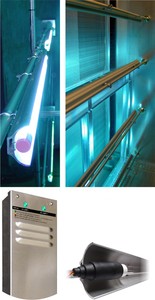 The patented Sanuvox CoilClean IL UV Systems (available in lengths from 12" to 60") are designed to prevent and destroy mold and other microbial growth from growing on the evaporator coil and surrounding areas. The benefits include eliminating biological "blow-off" of bacteria, viruses, spores and odors into the building while maintaining a clean coil eliminating the need for conventional coil cleaning. Typically, bio-film coats the coil reducing heat transfer negatively impacting coil efficiencies, the CoilClean IL maintains a clean coil maximizing system performance enabling the coil to work at optimum efficiency saving energy.
Equipped with High-Intensity 19 mm. Quartz UVC Lamps and High-Output Electronic Ballasts paired to Anodized Aluminum Parabolic Reflectors make the CoilClean Series incredibly effective.
By using Anodized Aluminum Parabolic Reflectors, Sanuvox UV CoilClean
Purifiers are able to direct virtually all the UV Energy onto the coil
without losing UV on the back-end top and bottom of the UV Lamp. The
Reflector also protects plastics and wiring from destructive UV rays.
The CoilClean Parabolic Reflector maximizes UV energy much the same way a
flashlight or a car's headlight uses a reflector to direct the UV
energy where it is needed most, the coil. Using any other UV Lamp /
Emitter will result in losing more than half the UV energy

FEATURES
Destroys mold and other microbial growth on the evaporator coil as well as biological odors
Improves energy savings & reduces coil maintenance
Available in sizes up to 60" lengths
High-Intensity 19mm. UVC Quartz Lamp
Sanuvox provides detailed Real-Time Kill Rates & Sizing Calculations
LED Status display incorporated into the Ballast Box monitors system performance including Lamp status and notifies the end-user when it is time to replace the UV Lamp
Dry Contact is included to allow the UV system to be easily integrated into the building automation system
UV Lamp Boot seals the connection protecting the UV Lamp contacts from humidity and moisture
Patented UV system maximizes UV efficiency
Energy while protecting plastics from destructive UV Rays
University tested & published results in The Lancet Medical Journal
Higher UV intensity & reliability than other UV Lamp / Emitters (ballast on the outside of the AHU)
Longer warranty than competing products. 15 year Warranty for the Ballast and 2 year Warranty for the UV Lamp.
Longer UV Lamp operating life; 17,000 hrs. compared to 8,000 for the competition
---