Save Money On Remanufactured Mechanical Components
Service Detail from Sardello, Inc.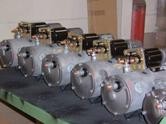 Sardello, Inc. specializes in large component and assembly remanufacturing, and has the capability of servicing a wide array of products, including, but not limited to
· Pumps - fuel/water/hydraulic
· Fuel injectors
· Valve bridges
· Push/master rods
· Intake/exhaust valves
· Gearboxes
· Turret assemblies
· Turbo chargers
· Hydraulic cylinders
· Hydraulic/mechanical brakes
· Torque converters
· Compressors
Sardello, Inc., offers cleaning, remanufacturing and assembly services for a variety of parts in critical applications. By outsourcing your needs, you gain flexibility, productivity and predictability within your operations. Our economies of scale enable cost-effective cleaning and remanufacturing services and our broad service capabilities, combined with a single point of contact, give you greater efficiency.
We combine the best cleaning technology, custom-designed equipment and years of hands-on experience to meet and exceed the demands of customers in a variety of industries. Our value-engineering approach and continuous process improvements will help drive un-necessary costs and increase quality while helping you to streamline your own internal processes. We have the capability to process thousands of different types of parts to your specification.
· JIT and Unit Exchange Program: Immediate shipment capability of "off-the-shelf" products with no core charges.
· Remanufacture and Return Program: 48-hour build-to-order capability.
· Contract Cleaning: Thermal, chemical, and mechanical degreasing and cleaning. Environmentally sound and EPA-approved.
· Paint Removal and Reapplication: Complete surface preparation of all metals
· Finished Goods Inventory: immediate shipment; standard or custom specifications
· Largest core inventory in the industry
· Kitting and special packaging for OEM reassembly
· Cost effectively eliminate problems by outsourcing those processes that hurt your company the most, allowing you to receive one finished part number as an alternative to managing multiple components and activities.
· Teardown, evaluation, cleaning and reassembly of mechanical components to customer requirements
· Packaging for direct customer shipment
· Retrofits and rebuilds
· Small and large bore honing
· Valve grinding
· Thread Repair and insert installation
· Crack detection
· OEM inspection
· EDI & extranet capability
24-hour technical service assistance
---