Revolutionize your Pipetting with Biohit Picus
Product Announcement from Sartorius Group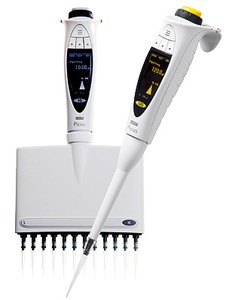 Meet Picus – the Red Dot awarded electronic pipette that eases your work load, protects you from injuries by ensuring optimal working posture and allows accurate and precise pipetting results!
Known as forerunner in liquid handling products with a long history in developing ergonomic, high quality pipettes, Biohit has now set a completely new standard for electronic pipettes. A dedicated team of R&D and ergonomics professionals, together with laboratory personnel, has developed a new technology with your needs and well being in mind. The result is the most ergonomic and sophisticated pipette in the market for laboratory professionals who demand the highest quality, safety and reliability in their work.
Benefits
Enjoy pipetting
New ergonomic design protects you from RSI (repetitive strain injury) and eases the workload in long pipetting series.
The lightest and smallest electronic pipette ensures optimal working posture and offers comfortable pipetting.
Achieve reliable results
New generation technology – electronic brake and the piston control system guarantee accurate and precise pipetting results.
Unique plate tracker increases the reliability in microwell plate work by guiding pipetting steps.
Learn to use it in a minute!
Intuitive user interface – adopt the main functions easily without the manual.
Fastest volume setting and easy menu navigation with unique Adjustment wheel.
Hot key – fast access to your favorite programs easing up your routine work.
Technical Features
Calibration adjustment in 1-, 2- or 3-points
Information for the service and calibration intervals
Autoclavable lower parts (excl. 1200 μl models)
Charging in charging stand or with micro USB cable
Possible to continue working with USB charging connected
Li-Polymer battery enables charging time in approx. 1 hour
CONTACT US for product information.
Click here for additional information, datasheets, etc.
---