Manhole Chimney Seal No. F-88
Product Announcement from Sauereisen, Inc.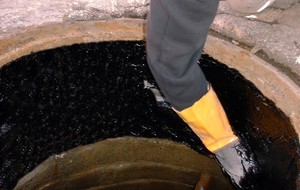 Manhole Chimney Seal No. F-88 is an elastomeric lining composed of fiber-reinforced, asphalt-modified urethane. Two component, chemical resistant seal that can be applied by a gloved hand onto the chimney sections of manholes to prevent water inflow. As a high solids elastomer, Chimney Seal maintains excellent elasticity and adhesion over a temperature range of -30F to 250F while resisting acids, alkalies, and salts. The flexible barrier resists freeze/thaw stresses and movement while being suitable for application on steel, brick or concrete substrates.
---