Slitting
Service Detail from Saunders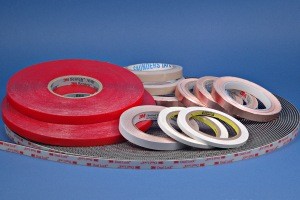 What is this?
Displacement slitting is more commonly known as "baloney slitting", where rolled materials are automatically slit without rewinding.
Technical Capabilities
The slitter is pre-programmed to slit all 3M materials. Saunders specializes in custom narrow slit widths. Depending on the thickness and type of material, we have slit to .10" wide on 1", 3", or 6" cores.
Specifications:
Maximum working width: 63"
Maximum O.D. of log: 20"
Core size: 3" or 6"
Slitting width: 1/16- 40"
Indexing tolerance: ±.004"
---