Cold Header Die Repair Press + Video
Featured Product from Savage Engineering, Inc.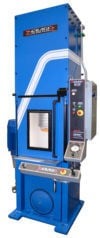 Cold Header Die Repair Press
These presses are used in the bolt making industry to press carbide inserts into and out of cold header dies. The presses are enclosed on all sides to withstand the occasional breakage of brittle carbide die, and the access door features a ballistics-rated Lexan window for easy viewing and increased operator safety.
This 500 ton model (left) was produced for J&J Carbide Tool Inc and features a bellows cover to protect the ram from shrapnel due to accidental die breakage.
Catalog Information on Cold Header Die Repair PressesWatch Them Operate!