Automated Guided Vehicles-No Floor Tape Required
Featured Product from Savant Automation, Inc.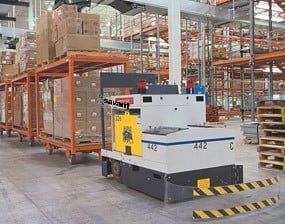 Unlike others in the AGV industry, Savant's AGV's do not require floor tape, floor embedded magnet rods or laser reflective targets to navigate in a facility. Our AGV's use inertial guidance where routes and system operation can be easily changed using a proprietary Windows PC program. Savant AGV systems are quickly installed in existing or new facilities and are scalable with added vehicles and unlimited 'virtual' paths.
Savant AGV's are manufactured to the highest standards and cost effectively accomplish a variety of tasks as tow vehicles, fork vehicles, unit load carriers and heavy burden carriers.