Horizontal Centrifugal Pumps
Product Announcement from Savino Barbera Srl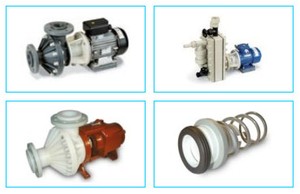 Anticorrosion horizontal centrifugal pumps conceived for applications in industrial processes, production lines and ecological facilities where resistance to chemical aggression must be coupled with reliability and easy maintenance.
The special construction of these pumps eliminates the possibility of any contact between metal parts and the liquids, while the selection of materials and manufacturing technologies ensure full compatibly with the products handled, a long operating life and conformity with standards in force: in particular, the presence of a mechanical seal designed exclusively by Savino Barbera offers safe solutions for all industrial pumping needs.
Features:
Materials of construction: PP, PVC, PVDF, PE-HD.
Flow rates up to 150 m³/h, heads up to 60 m w.c.
Hydraulic and structural parts obtained by molding with thermoplastic materials.
Sliding parts flushed by the liquid being pumped.
High-efficiency electrical motors compliant with international standards. Provided according to customer and plant requirements.
---