FN3311 and FN3310 Compact Power Line AC Filter
Product Announcement from Schaffner EMC Inc.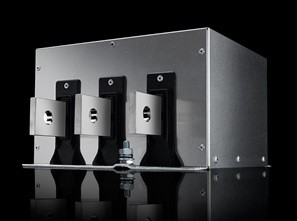 The FN 3311 / FN 3310 product series of standard EMC/EMI filters are based on Schaffner's many years of expertise in filter design for all types of converter and inverter applications. Installed between the PV inverter and the power grid, the FN 3311 / FN 3310 AC filters are used to influence positively the conducted emissions on the grid side to help to comply with the required emission standards.
The FN 3311 / FN 3310 series are primarily designed for all kind of power line connected converter and inverter applications between 250 and 2,300 A. However, they are optimised for PV inverter and can potentially also be applied for general purpose motor drives applications.
---