K series 3-position contact assembly
Featured Product from Schaltbau GmbH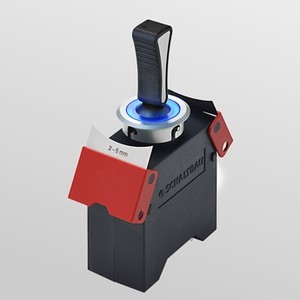 Series K toggle switch assemblies are equipped with up to 8 snap-action switches type S880. With these switching elements 3 and 5 switch settings can be realised. Following UIC 612 and technologically state-of-the-art they are compatible to the P Series toggle switches as far as their momentary and maintained operation is concerned.
Features
Handle styles: Special, ball or T-handle, standard
Action: 3 and 5 position, momentary and maintained operation, compatible to Schaltbau's P Series toggle switches
Central fixing: Elegant switch mount with illuminated ring used as function indicator or for night design. Easy to mount
Rugged and durable: Solid and completely sealed plastic housing. Cage clamp terminals at the bottom of the switch with Deutsche Bahn approval
Typical Application Fields
K Series toggle switches are typically used as components of driver's desks of rail vehicles but also for cranes and cable cars.
iF product design award
Schaltbau toggle switch Series K has been granted the iF product design award 2012. Donated in 1953, the award is a recognized seal for excellent product design the world over. Tricon Design AG, a company with a lot of expertise in traffic engineering, was commissioned by Schaltbau with the design of the switch.